Though being young as it is, the TAG Art Museum, a public-benefit art institution, has received wide support and high appreciation from artists, curators, the press and the public since the inauguration on August 12, 2021. This is rarely seen for an art museum opening in the middle of pandemic. The uncertainty and difficulties give us a pause to ponder on: what art is meant to be? How should art institution help city development? How to create good lives for people as what they want? How to do what art can do?
From the very beginning, the TAG Art Museum has been pooling resources for cultural facilities, unleashing art's potential through exhibitions, academic forums, aesthetic education, and community relations; expanding art's reach through social media, public events and sponsorship; and building a third place for citizens seeking social lives and art consumption. It is committed to serving the public good, so that the future metropolis of Qingdao has its own contemporary art.
Art Exhibitions + Academic Events
-- The Voice of Art --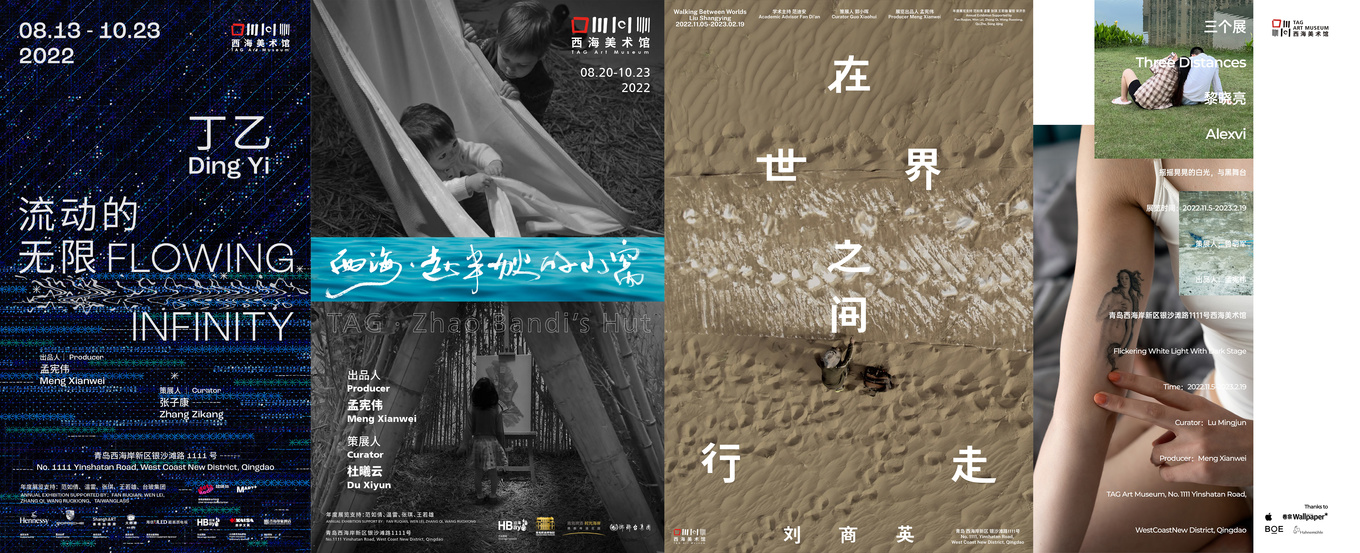 The TAG Art Museum has held eight contemporary art exhibitions, including Beyond that displayed works of 14 accomplished artists; Man Ray & His Muses, a show supported by the Embassy of France in China and the French Ministry of Foreign Affairs and International Development; TAG · New Contemporary Art Exhibition – Sailing, focusing on the growth of young artists; SHOW TIME – Paris et la mode à travers le regard de Sun Ruixiang of Croisements Festival, an exhibition in cooperation with the Embassy of France in China; TAG · Zhao Banqiu's Hut, one traveling through seven cities; Dingyi: Flowing Infinity, the first exhibition of the museum studying individual artists; its follow-up exhibition, Walking Between Worlds: Liu Shangying; Li Xiaoliang: Three Distances – Flickering White Light, Dark Stage, the latest visual experiment in a series.
In the past one year and more, at least 200,000 people visited the TAG Art Museum, with over 3,000 students, teachers and faculty from primary and junior schools, colleges and universities, over 2,000 from businesses, social organizations and industry associations, over 3,000 from government, and over 3,000 visiting on the Community Opening Day.
On the International Museum Day of May 18, 2022, the museum was free to the public and received nearly 1,800 visitors, a reminder of "the power of a museum".
In June, 2022, the 720° Online Panoramic Exhibition Hall was launched after month long preparations. It gave online audiences an intimate, exclusive glimpse of architectural art. More online exhibitions are coming soon.
To explore the academic possibility of exhibitions, the museum invited artists to host 16 rounds of TAG Lectures. The talks were attended by over 3,600 people and viewed by almost 100,000 people, both online and offline. It offered a new way to know artists, apart from exhibitions, and stroke a chord with guests, artists and audience. The corresponding academic journal, compiled and completed, will be available soon!
Nestled beside the sea, the museum shows inclusiveness by the combination of the classic and contemporary. As a non-profit art institution, it established TAG Tidal Wave Awards for young artists. Appraised by judges with academic influence at home and abroad, the award was meant to inspire young artists to blaze a trail in contemporary art. The first TAG Tidal Wave Awards was won by Li Weiyi, a young artist in TAG · New Contemporary Art Exhibition – Sailing.
In days to come, in addition to art events, the museum will focus on the seaside surroundings of Qingdao, revealing the intimacy between city and ocean, building a unique brand to boost contemporary art. In peak seasons, it will launch art events, such as "Art Carnival" and "Tide of Art", to adapt to tourist boom and enrich local culture for resident and visitors.
Aesthetic Courses + Museum-School Partnership
—A Unique Education Brand—
One duty of art museum lies in public education. With resources poured into course development, platform creation, media partnership, exhibitions, community relations and museum-school partnership, TAG Aesthetic Education is now a well-regarded brand of public education for its comprehensiveness.
A total of 240 courses are open to kids, adults and family, including exhibition courses, basic courses, trial lessons, festive courses, winter & summer camps, and online courses.
As a municipal tourism base of Hands-on Inquiry Based Learning (HIBL) with national certification, we have some of the best exhibitions and academic structure in the world, and therefore keep a close contact with schools and community. On February, 2022, the TAG Art Museum contracted with Qingdao No.6 Middle School as its base for aesthetic practice. Now, four local schools have been our partners.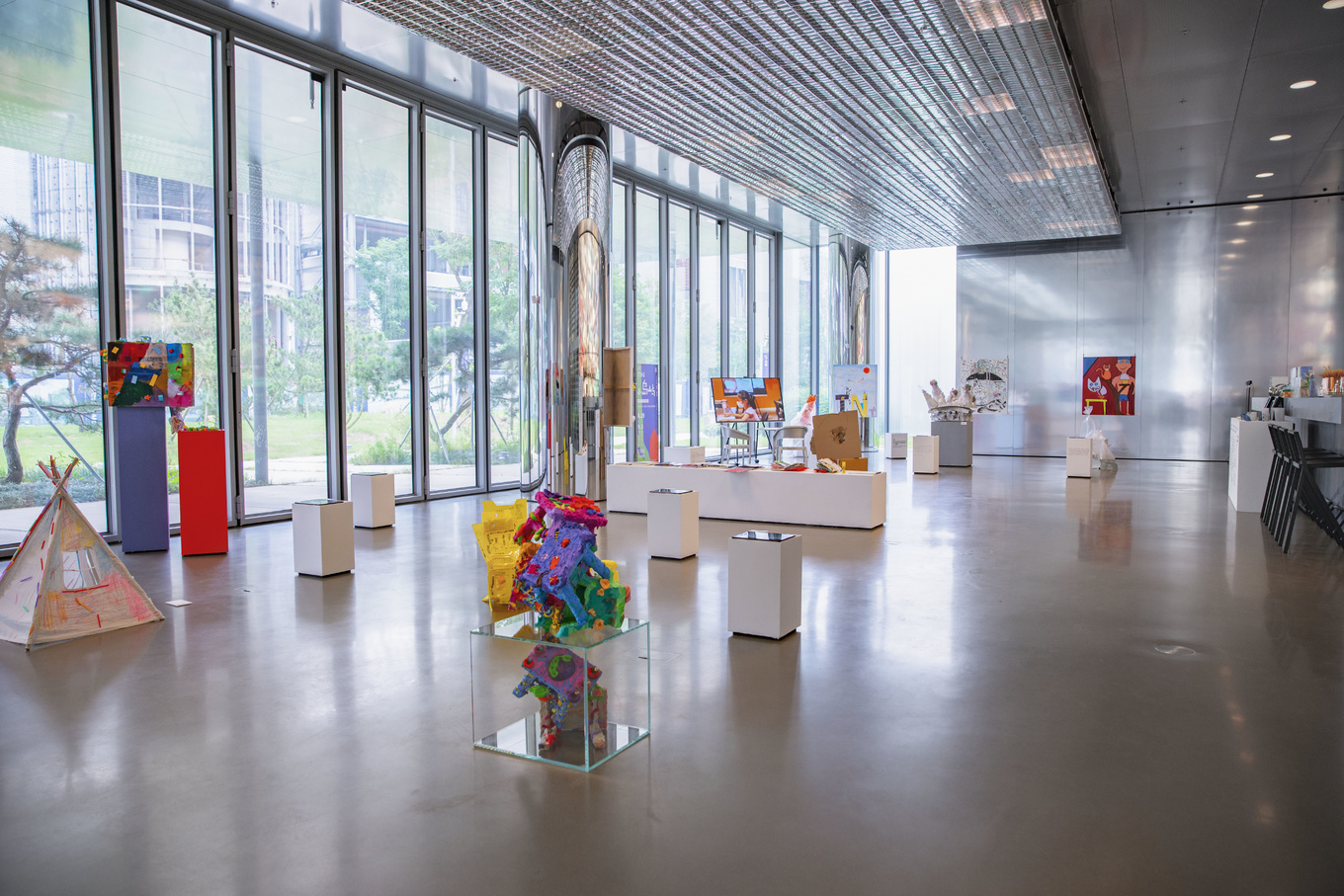 From August, 2022 to September, 2022, the First TAG Kid Art Show: Art Island showcased over 60 paintings, devices, handicrafts and videos. The visitors could try paintings, monotypes and sketchbook in three reserved areas. We see this exhibition as a start to track the growth of young artists, and create potential for community, in our professional ways.
Vibrant Community + Fond Neighborliness
--A Close Affinity--
Members are the beating heart of a non-profit institution. TAGGER family grows every day as the TAG Friends, TAG Families and TAG Juniors amount to 1000 members. Through online and offline interaction, we establish an online community of 2000-odd members to share art news and get closer to audience.
We've held over 20 events for the public and members, including seaside yoga, wet plate processing, flower arrangement, coffee appreciation, sandplay therapy, swing dance, salon, Tan Dun concert and oil painting.
The TAG Art Museum is open for wedding since August, 2022. By the end of the year, the museum has borne witness to decisive moments of several couples.
We'll channel all kinds of resources to the arrangement of colorful events and add some zing to city lives.
Media Promotion + Ubiquitous Influence
--The Potential of Art --
The TAG Art Museum has been hitting headlines since opening. It's covered by official media at national and provincial levels, by those with a focus on specific fields, latest news and lifestyle, as well as their new media counterparts. With a network of more than 210 media, the influence of our exhibitions, architecture, public courses and activities spills over art world and reaches tens of millions of readers and audience.
We run accounts on social media platforms like WeChat, Weibo, official website, Douyin, Little Red Book and Bilibili. The official account on WeChat has post 353 articles, with 87 on exhibition, 56 on academic research, 83 on public education, 37 on public activities, 21 on food and life, and 7 reposted. The most popular article was viewed by 23406 people.
To share the beauty of architecture and nature, we roll out the Window of TAG: Monday Livestream to show everybody around on closing day.
Crossover + Brand Partnership
--Infinite Possibilities--
With resources at hands, we form a partnership with a dozen international and local companies. Our cooperation on exhibitions, public programs and commercial activities ranges from automobiles, stationery, and electronic devices, to food, drinks, top luxury and visual entertainment. We fully appreciate the support of our partners with passion for public welfare, and look for more companies to work with us.
Teams making films, music videos, advertisements and magazines have come here to shoot the scene, driven by magnificent architecture and natural beauty of the museum, revealing the energy, potential and possibility of a young art museum.
Creative Design + Food & Shopping
-- TAG One-Stop Destination --
Built upon the vision that art lives in life, the TAG Art Store presents over a thousand of merchandise from all around the world. They come from 54 world-renowned brands, covering themes of exhibition, architecture and nature. Furniture pieces by Jean Nouvel are also here.
Opened in May, 2022, the online TAG Art Store provides art merchandise at fingertip, covering household goods, travel items, creative toys, office stationery, kitchenware and personal adornment.
TAG Food is a semi-open seaside dining area for lunch, customized dinner, and afternoon tea. Most of the cuisine is western light meals with local specialties. The seasonal ingredients and recreation of regional cuisines produce delicious food matching the beautiful scenery.
TAG Food launches new products every season. Since the first day, it has been providing derivative dessert in the shape of exhibits, holding birthday parties and customized dinners, offering service for conferences, public activities and brand events. It improves people's artistic lives with professional standards.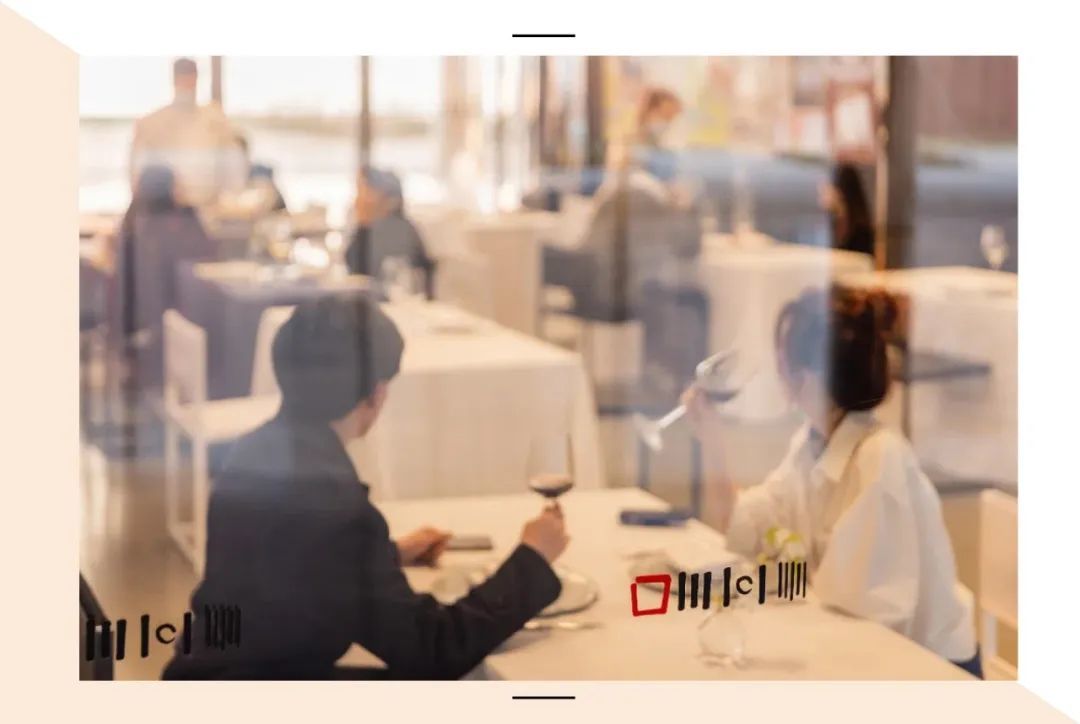 The Most Attractive Seaside Art Museum
--New Year, Fresh Start--
For the TAG Art Museum, 2022 is a hard year, but we grew and learned.
In April, 2022, the Larry's List, a leading art market knowledge company, suggested 14 Private Art Museums to Include on This Year's Travel Agenda, TAG Art Museum being the only Chinese museum on the list.
In May, 2022, the art authority National Arts announced the 2022 Golden Star Award for Chinese artists, TAG Art Museum being one of the Top Ten Art Institutions of the Year, signaling the stardom of contemporary art.
In August, 2022, in the Sixth Ideat Future Reward, the TAG Art Museum was rated as the Best Public Architecture, rising top of the world-class cultural architectures, including Paris Stock Exchange, M+ Exhibitions and Shanghai Astronomy Museum.
At the end of 2022, a new achievement made the harsh 2022 unforgettable for the TAG Art Museum.
It was rewarded as one of the Ten Most Active Art Institutions in the Year-End Review of 2022 Domestic Exhibitions co-organized by DAMAI and Douyin.
In the same year, it was rated as TOP Five Art Museum of the Year by Hi Art magazine. In a list once dominated by museums from Beijing, Shanghai and Shenzhen, Qingdao's TAG Art Museum forms a piece of the picture of art in China. As the youngest museum in the list, TAG Art Museum accomplished an impressive achievement one year after opening, creating a new environment for the seaside city of Qingdao.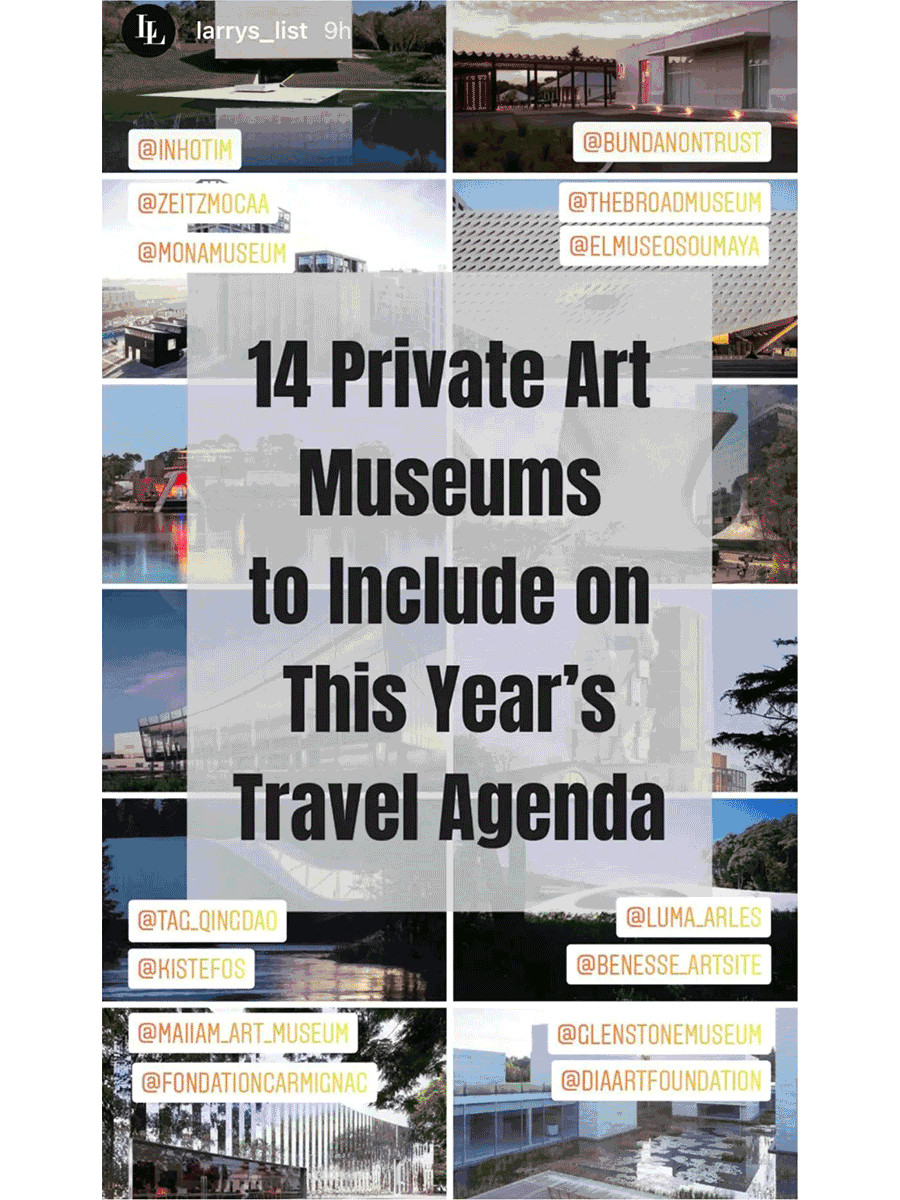 Stumbling through 2022, we can't safely assure that 2023 will be free from uncertainty.
But just as Roman Rolland said, "there is only one heroism in the world: to see the world as it is, and to love it".
With ambition and aspiration, the TAG Art Museum will continue to perform the duty of a non-profit art institution. We hope the reason of this course will be seen by more, supported by more, from government and society.
Sailing off from a new start, we await you at the most attractive seaside museum!